I mentioned over a year ago about writing an entry about Geoffrey Toye, the composer of the ballet The Haunted Ballroom. Unfortunately, I seem to be struggling to find very much about his early life or war career for a main site entry, and it seems that his compositional legacy has suffered from neglect and losses. Here are a few details that may eventually make up a full profile
Edward Geoffrey Toye ( 17 February 1889 – 11 June 1942) was another early RCM volunteer for military service in 1914. The son of a housemaster at Winchester College, he was a talented pianist and following school at Winchester went up to the Royal College of Music.
A list in the November 1914 edition of the Musical Times notes that he was a private in the Duke of Cornwall's Light Infantry, the same regiment that George Butterworth joined at the outbreak of war – is it possible that they joined together?
Both men were evidently acquainted with each other having both been involved in the reconstruction of Vaughan Williams' London Symphony (a task which seems to have involved any number of Vaughan Williams' friends). Toye had conducted the work's premiere performance on 27 March 1914, while Butterworth was the dedicatee.
Detail on his war service is patchy. At some point in the war [when?] Toye transferred to the Royal Flying Corps to work in reconnaissance and became a specialist in aerial photography. By the end of the war, he held the rank of Major.
After the war, he took a career as a marine underwriter at Lloyds of London, but continued his musical career on the side, concentrating mainly on conducting. His compositions in this period include an operetta The Red Pen (1925/7) for broadcast on the fledgling BBC (described by the composer as a "sort-of opera") and two ballet scores for Saddler's Wells; Douanes (1932), a short ballet about customs officials, and The Haunted Ballroom (1934), in which an ancient curse dooms successive generations of a family to dance themselves to death in their family ballroom. Dark as it sounds, the ethereal waltz from the latter is Toye's most famous work, available on a number of light music CDs, often in re-arranged form as 'Concert Waltz from The Haunted Ballroom'.
Philip Scowcroft's Garland website mentions a work called The Fairy Cup [sic], music for the Alexander Korda film Rembrandt (1936), a masque Day and Night and two short choral items, Henrichye's Death apparently with orchestral accompaniment and The Keeper, with brass accompaniment.
The Keeper is a folk song arrangement, but I can't find any mention of Henrichye's Death and Day and Night anywhere else at all, though.  It looks like the work may have been The Fairy Cap which was apparently not an opera but a 'mime play in one scene' presented by students at the RCM on 16 November 1911. The West Australian newspaper of 6th January 1912 says the following about the play:
'a new mime play in one act, called The Fairy Cap written by E. Geoffrey Toye, a scholar of the college. The story has pretty fantastic basis, dealing with the loss of a fairy cap, and the fairy's attempts at recovery from a shepherd boy, who demands a kiss in payment. The fairy calls in the assistance of "Sun" and "Wind" and eventually gets back her property. The London Daily Telegraph said "this fancifully conceived trifle Mr. Toye has written music that is always apt, expressive, and refined, and filled in with many happy touches a score that lacks nothing of suitable grace and delicacy".'
There are also a few published choral songs during the 1920s, mostly for baritone solo and chorus including arrangements of "Auld Lang Syne", "Can't you dance the Polka?", "Lowlands", "Drunken Sailor" and three other Sea Chanties; i. Amsterdam. ii. Missouri. iii. The Liverpool girls.
Did Toye write a symphony? His entry in the Oxford Dictionary of Music appears to imply this, as does his entry in Minor Ballet Composers (page 88), as does this biography by David Stone (as does his Wikipedia entry, which probably comes from one of these sources). I can't find any other references to performances of it, though. Does it still exist if it ever did?
The Red Pen was first broadcast in 1925 and was performed again on the radio in 1927. Its libretto by A.P. Herbert (1890-1971) is a satire with the premise that a trade union for writers persuades the government to create a 'Ministry for Verse'.
I note a letter by Raymond J. Walker in Opera in February 2000 that the score of The Red Pen is/was missing but the band parts and libretto survive (although do the vocal parts survive?). It seems that Toye's music manuscripts are all missing. I wonder if Mr Walker's enquiry had a response?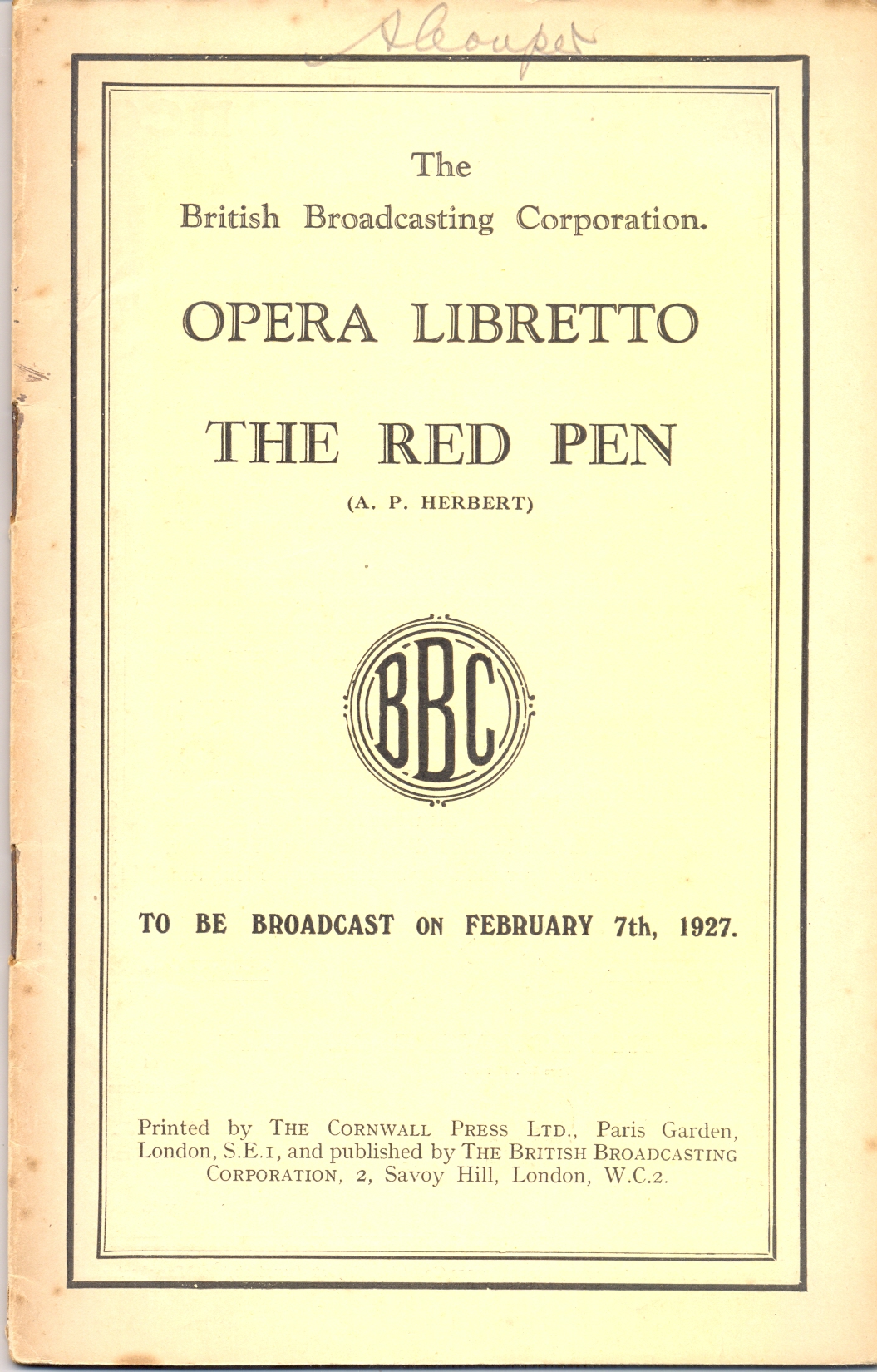 As an administrator and director, Toye is perhaps best known for his association with the D'Oyly-Carte Opera Company, where he revived Gilbert & Sullivan's mock horror operetta Ruddigore, writing a new overture and tweaks to the score. He also produced the first G&S production for the cinema in 1939 with The Mikado.
He later held important positions at Sadler's Wells and the Royal Opera at Covent Garden (where he apparently had a massive falling-out with Sir Thomas Beecham). During World War II he worked for the BBC in a non-musical role. He died in 1943 – perhaps his death during the disorder of London in WW2 is the cause of his compositions being lost? Or maybe they're just in a private archive somewhere.
Further reading
"Toye, Geoffrey."

Grove Music Online. Oxford Music Online
.
William E Studwell, Bruce R Schueneman, Minor Ballet Composers: Biographical Sketches of Sixty-Six Underappreciated Yet Significant Contributors to the Body of Western Ballet Music (Routledge: 2012)
Noel Goodwin, CD notes for 'Tribute to Madam' (London: ASV records, 2001) CD WLS 255